I would like to hear your opinion about Mew Mew. ^^
I watched this series until episode 22. I think Mew Mew is an interesting magical girl series which focuses on relationships instead of monster blasting in every episode. I saw the 4kids version in the TV and after that the Japanese version. In the first episode, Ichigo (the main heroine) fuses with a wildcat and thatswhy she becomes the Mew Ichigo, but in 4kids she's blasted by a red laser. LOL. Only one positive thing about 4kids version, the bgm-s are better than in the Japanese. The japanese is similar to the good old SM. Shall they do a mixed version of the series. XD
Characters:
Ichigo- I dont like the main heroine. She's very sexy. Everytime I see her in her clotches I must whistle.
Mint - She should be my girlfriend. Elegant, aristocratic, proud girl. My type.
Lettuce - She mimics Ami-chan from SM, but in a wrong way. Lettuce is so lame. Even the other characters have problem to take her stupid things. I loved her for one moment, but it's a spoiler.
Pudding - Adorbale. She's often hyper, but she takes care for her family alone (3 brothers, 1 sister). She's very hardworking. I can say only good about her.
Zakuro - Hmmm...weird. I dont know why she is a part of Tokyo Mew Mew. Her apperance does not match with the others. She must go in another anime series. XD She's strong, silent, and idolized by Mint (Oh no...Mint-sama! Dont go out with her! XD).
Guys: They are all the cute type bishounen. If this were a shounen anime, this would be the worst shounen anime ever. Masaya is a weird boyfriend, Ryou is a blond prince, Keichiro came from the Ouran high school host club.
I dont like the antagonists. Long-ear stupid aliens who suffered from "the evil syndicate syndrom": The boss send them out, they always fail, then the boss will come and kill our heroes. XD Crap! Where is the character developments?
I think Tokyo Mew Mew is worth to watch. It's unique among the magical series. You should watch this instead of the bad Yes! Precure 5 which copies the Mew Mew (unfortunately, it has a second series now).
In Hungary, it's one of most popular series. The voice acting is all-wrong, but I love Masha's name (the little pink furry helper): Minimica (mini= tiny mica= kitty). It's so cute name. XD
Japanese title: Tokyo Mew Mew
English title: Mew Mew Power
Hungarian title: Wildcat Commando
_________________
☆相当古怪的典雅的贵族☆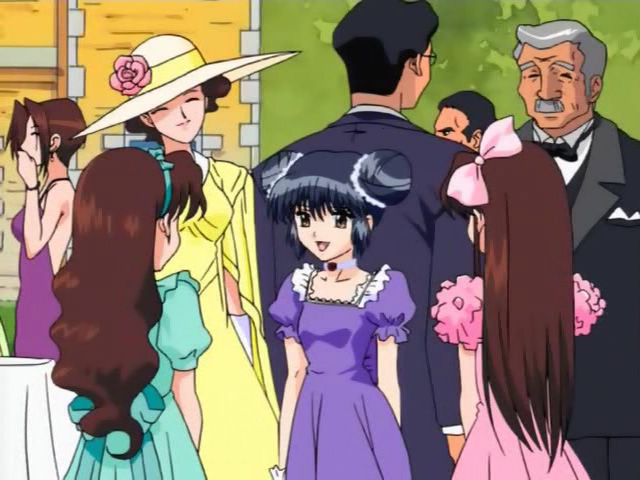 Onee-sama




Posts

: 203


Join date

: 2008-03-22


Age

: 31


Location

: In my room at my webcam



Wildcat Commando? Sounds like a war epic XD
AWW! Don't diss Lettuce like that! She's so damn cute!
But I love my girlies in glasses!
I never really cared much for the show. I mean, it started out with them being infussed with Endagered DNA, but they really don't go back to that much. It is a good Mahou Shoujo though. All the right elements




Posts

: 61


Join date

: 2008-03-22


Age

: 24


Location

: Taking a picture up your skirt :3





Similar topics
---
Permissions in this forum:
You
cannot
reply to topics in this forum